Backcountry Snowmobiling



Only in Leadville
When most people think of a Winter Vacation in the Colorado Rockies they think skiing at one of the mega resorts. If that's not your cup of peppermint schnapps, how about snowmobiling? Leadville has hundreds of miles of forest service roads and trails and half of them are groomed every week.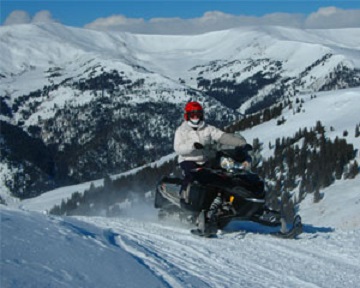 Snowmobiling is one of the fastest ways to cover the backcountry and see it all in the snow. There are 30 miles of safe, groomed trails around Turquoise Lake and many, many more around the Leadville area. All of which comes with spectacular views of the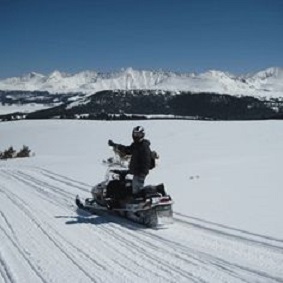 Rocky Mountains, Continental Divide, and the two tallest mountains in the Rockies. You can vacation anywhere you choose. But, there is just one place on earth to witness the grandeur of the Rockies, Leadville, Colorado. Bring your own rig and sleds and park at the lake in the parking area. Or, rent snowmobiles in town. The rentals are reasonably priced and you can even schedule a guided tour. Check out our great vacation rental properties in and around town. You can make it a backcountry adventure and rent a Yurt for the whole family, drink melted snow and read by a gas lamp. Then, stay and ride at 11,000'. Call any of the local support businesses below for hours, addresses, maps and more information about where to go in the snow and how to get there. Check out our Winter Brochure for more information about exciting winter fun in the "Heart of the Rockies", Leadville, Colorado. Print as many as you need to share with family, friends, groups, or club members.
Terrain and Trails

Below are a few of the most popular trails our guest enjoyed while staying in one of our vacation rental home or property.The locals enjoy them too.

Wurt's Ditch Road – is an out and back 10 mile ride and great for beginners. You can take Highway 24 north of Leadville toward Tennessee Pass for about seven miles. Take first left past Sylvan Lakes Estates, County Road 19. Follow this road for 0.8 miles. Turn right at Wurt's Ditch Road sign. Follow this to Forest Service cabin. Park here and begin ride up Wurt's Ditch Road.

East Tennessee – is an out and back 10.5 mile ride for beginners. It's about 3.5 miles north out of Leadville on Hwy 24. Turn right at the East Tennessee Road, County Road 18, and park in the plowed lot. Follow the road north. There is a great place to play at No Name Gulch. This trail leads to Ski Cooper's permitted area. Please don't enter.

Slide/Lilly Lake –is an out and back 9 mile ride for Intermediate riders. Drive Highway 24 north of Leadville toward Tennessee Pass for about seven miles. Take first left past Sylvan Lakes Estates, County Road 19. This road will take you to a small cabin and a sign for Lilly Lake. At road junction near cabin, continue straight past cabin to Forest Road 145 thru Forest Service Gate. This area is heavily used by hut skiers. Try to avoid conflicts. Watch for Wilderness boundary at Slide Lake.



Turquoise Lake- Situated at an elevation of 9,760 feet, the Turquoise Lake snowmobiling trail gives sea level visitors a chance to acclimate to Leadville's high-altitude environment. This 20-mile loop takes you through the trees and across a dam. At some point, you might see ice fisherman out on the lake. To reach Turquoise Lake, begin at Highway 24 and Mountain View Drive and drive 2.8 miles west on Mountain View Drive to a "T" intersection at County Road 9. Make a right turn and drive .5 miles to the parking area.
Local Support
High Riders Snowmobile Club - They operates out of Leadville and groom the trails for snowmobilers and cross country skiers. Check out some of the signs and maps you will
find along the groomed trails in the Leadville Mining District, thanks to the members and volunteers of HRSC. Check out the new website sponsored by HRSC. Twitter updates for trail conditions will be coming soon called Leadville Trails @leadvilletrails.com. High Riders Snowmobile Club Address: 4037 CO-91, Leadville Colorado, 80461

Leadville Ski Country -Let Leadville Ski Country plan and arrange your next skiing trip to

Colorado. They offer personal service for a trouble-free trip. Their rentals include skis, snowboards, snowshoes, & snowmobiles and they have all the equipment you'll need to make your next trip joyful. Experience the rush of driving through the snow around the beautiful Turquoise Lake. Several places have open views of the lake with 14ers in the background. This 20-mile loop will take you through beautiful trees as you weave your way to a high vantage point and then come back down across the dam. You'll enjoy a play area where you can romp around in the snow. And many times you'll witness ice fishermen out on the lake waiting for mackinaw to strike. Leadville Ski Country, 116 E 9th St, Leadville, CO 80461

Leadville Ranger District- Deep powder, miles of groomed trails and more! The Pike and San Isabel National Forests boast some of the best snowmobile routes. To use Forest service roads check with the Ranger District for required permits and registration. www.fs.usda.gov/Internet/FSE_DOCUMENTS/fseprd490152.pdf Leadville Ranger District, 810 Front Street, Leadville, CO – 80461, Ph: 719-486-0749

Colorado Outdoor Recreation Search and Rescue (CORSAR) Card -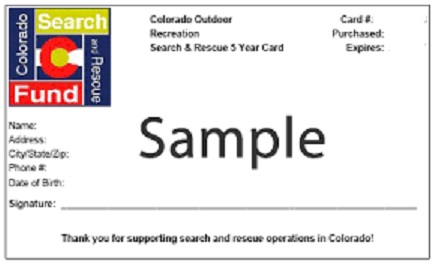 Colorado residents and visitors are well served by dedicated volunteer search and rescue teams, but mission costs are often in the thousands of dollars. By purchasing a CORSAR card you are contributing to the Search and Rescue Fund, which will reimburse these teams for costs incurred in your search and rescue. Funds remaining at the end of the year are used to help pay for training and equipment for these teams. Anyone who purchases a current hunting/fishing license, or boat, snowmobile, ATV registration already contributes to the fund. The card is not insurance and does not reimburse individuals nor does it pay for medical transport. It reimburses sheriffs for eligible costs involved in the discharge of a SAR mission. The CORSAR card is available for $3 for a one-year and $12 for five-year card and can be purchased at over 300 retailers in the state. You may also purchase a card on-line. Please visit one of these links: www.colorado.gov/pacific/dola/colorado-outdoor-recreation-search-and-rescue-corsar-card.
Vacation Rental Specials
Some of our Cielo Vista Vacation Properties offer Snowmobiling Specials. First find the right property for you, your family or group. Then check to see if it offers the special. If so, load in the appropriate code at checkout and enjoy a Rocky Mountain Vacation like never before. The awesome views of the mountains and backcountry are free compliments of none other than Mother Nature, herself.