Championship & Pro Designed Golf Courses



Consider Colorado for a Golfing Vacation



Everyone in the World knows Ski Central Resorts in Colorado has some the
best Skiing "Golfing"? That's right! There are 17 golf courses within an hour's


drive or less of each other in the central Colorado Rockies. The choices range from 9, 18, and 36 holes and include Championship and 3 pro designed and built courses. All surround with icon backdrops of the Colorado Rockies looming at 14,000+ feet. Now add in those awesome vistas of Alpen Glow and daytime summer temperatures that only reach into the seventies and you have the "Ultimate Golf Vacation."
The Courses
All the Ski resorts have several golf courses to choose from. The towns of Edwards, Beaver Creek, Vail, and Keystone have 2 courses each and Silverthorne, Copper Mountain, Leadville have one course each and Breckenridge has one course broken up into three 9 holes courses. Pricing for Green Fees and cart rentals fluctuate from spring to summer and back to fall so we chose to rate the course by $. More

$$$$$

, more money.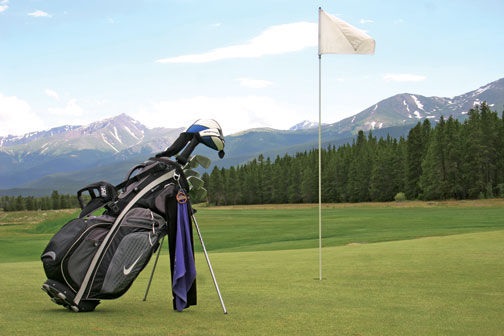 $ Mt. Massive golf course is the Highest Golf Course in America and sets at the base of the most spectacular views of the tallest fourteen thousand foot mountains in the entire Rocky Mountain Range. It has 9 well maintained holes and is the most affordable of all the other resort courses. It's the best place to start your golf vacation and sharpen your game before you reach the more challenging courses. For tee times call 1-719-486-2176. For more information their website is www.mtmassivegolf.com
$$

Copper Mountain or Copper Creek Golf course is just 20 minuets north/east of Leadville on US 91. The scenery during the drive is awesome and at the course. Beautiful views of the Ten Mile Range can be seen at several of the 18 holes. You can choose to play only 9 holes. Give the Pro shop a call for tee time at 1-866-677-1663 or look up their website, www.coppercolorado.com.
$$$

Breckenridge Golf Course boast that it is the only municipality in the
world to own a Jack Nicklaus designed, 27-hole golf course. It is located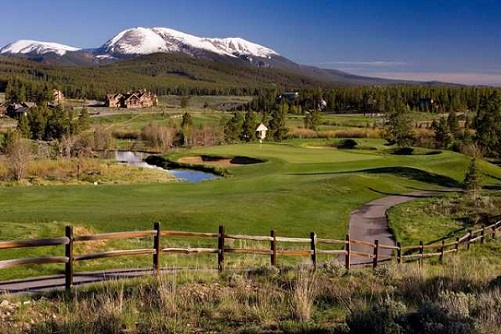 about an hour drive from Leadville. You travel northeast on US-91 to I-70 East, Look for US-9 on the right which takes you right into town. There are three championship nines, the BEAR, the BEAVER, and the ELK. You play at 9300+ feet in elevation and there are panoramic views of the snowcapped Colorado Rockies. For tee times call 1-970-453-910 or visit the website www.townofbreckenridge.com for more golfing information.
$$$$-$$$$$ The Vail Valley holds 6 golf courses. To reach Vail, leave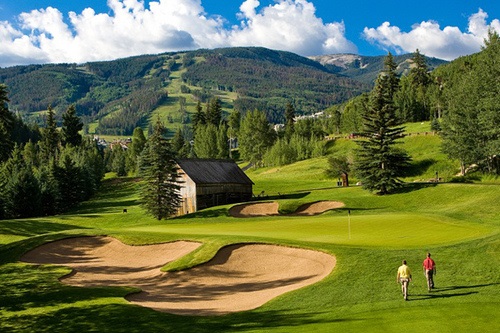 Leadville on US 24 NORTH until you reach 1-70. Turn right and Vail is on the right. To reach Beaver Creek and Edwards leave Leadville on US 24 NORTH until you reach 1-70. Turn left onto I-70 West, Beaver Creek is on the left and then comes Edwards, also on the left. The drive is about an hour. The most notable is The Sonnenalp in Edwards. It's a semi-private club which

offers limited access to the links. The 18 holes Championship Golf Course has spectacular scenery and offers golfers everyday playability. Give the club house a call for tee times, 1-970-477-5372. Their website is www.sonnenalpclub.com. To lookup any of the other course you can Google Vail, Eagle, or Beaver Creek Golf Courses.
Lodging and Logistics



If you are like most people, it's hard to justify the
cost of golfing at a Major Resort much less the lodging and meals for a family or group on vacation. Well, Cielo Vista Vacation Properties has the solution. Stay in Leadville, Colorado where our lodging rates for a private vacation rental home are well below the Major Resorts condo rates and golf any or all the courses in the Central Rockies just by taking a short scenic drive. You can enjoy all of the comfort, at half the cost. Then you can afford to play at any of the 18 courses with the saving on the vacation rental.

You can begin in Leadville to brush up on day one. Play 9 or 18 holes to get use to the extra driving distance of the tee. The second day, head to Copper Creek for 18, just 20 minutes away. Then drive into Breckenridge on the 3 day for 27 holes. Each night you head back to Leadville for some R&R in Home Sweet Rental Home. The following day, you can head to the Vail Valley for several more choice of styles and type of courses. You'll see one beautiful mountain scenery after another the whole time you are driving from Leadville to another course. As an added bonus all directions out of Leadville travels over mountain passes on Colorado State designated Scenic By-ways know as the "Top of the Rockies". It just doesn't get any better than this!

We realize that not everyone in your family or group enjoys the game like you do. Fortunately, there are plenty of other activities and events in Leadville to keep all the members in your group occupied. Some of our properties are located in town within easy walking distance to everything. They may not realize you're gone. Words of Wisdom: Don't let the cool temperatures of the Rockies fool you into thinking you can't get sunburn. Always use sun screen on exposed skin. The sun's rays are much more intense at higher elevations.
Early and Late Season Golfing
Lodging and property rental escalate during the "Peak Summer" season at all the High Country Resorts due to higher demand. The best way to avoid the inflated pricing is to avoid the crowds by booking lodging during the spring and the fall. Mid to late spring and early to mid-fall are absolute perfect condition for golfing in the Rockies. Clear crisp air with gorgeous views, early and late season discounts on rentals and rounds, and more choices for tee times at all the courses are very common. Not all locations experiences the same weather so even if snow falls unexpectedly at one course, others may still be open for business. If you decide to come up to golf in the summer, try to book all tee times for early morning. Extreme temperature changes increases the likelihood of late afternoon thunder showers and hail while on the course. Where do you think the phrase, "Golf Ball Size Hail" was coined?
Specials
During the off or transitional seasons, Spring and Fall, all the golf course and resorts offer discounts and specials and we are no exception. Most of Cielo Vista Vacation Properties offer special during the spring and fall that make your golf vacation even more attractive and affordable. Our Specials Page includes 2 specials for the serious golfer. For more details, go to our specials page to review. Then find a property that is participating. Book online and place in the code of your choice. It is that easy. We look forward to seeing you on your next golf vacation in the Colorado Rockies.