Colorado Scenic By-Way Cycling
Top of the Rockies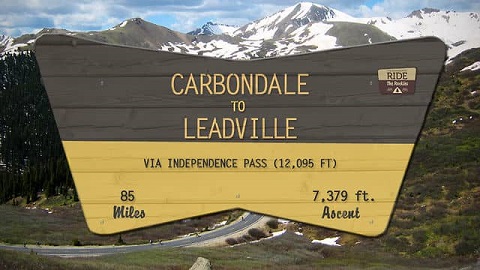 People come from all over the world to cycle over, around and through the Colorado's Rocky Mountains. Some come to compete, some for comradery, and others just for fun. But they all come for the spectacular mountain scenery and Leadville is at the top of the list of those blessed by the hand of Mother Nature. In any given year Leadville is the start, finish, or pass through destination for three of Colorado's largest road cycling events and several others alternate every other year or so. This year, Ride the Rockies, the Kia Copper Triangle, and the Buena Vista Bike fest will all come through town. All three may come from different direction but they all come in the same way, on Colorado Scenic By-Way called "Top of the Rockies".The "Top of the Rockies" was designated by the U.S. Secretary of Transportation as a National Scenic Byway in 1998.
The Routes
This 82-mile route starts at I-70 on US-91 near Copper Mountain Resort and climbs south up and over Fremont Pass at 11,318' and then down the other side and into Leadville. Then it turns back in a northerly direction over Tennessee Pass at 10,424'and rides by Redcliff and into Minturn. The next leg is 40 miles and starts in Leadville and heads south to Twin Leaks and rides in front of the 2 largest mountains in the Rocky Mountain Range, Mt Elbert and Mt Massive. Both are 14,000'+. The route turns west through Twin Lakes the up and over Independence pass at 12,095' and into Aspen on State Highway 82. The entire route crosses the Continental Divide 3 time. On Independence pass you are surrounded by 13,000' mountains that include Mt. Champion, Geissler Mountain, Twining Peak, Grizzly Peak and Casco Peak. As an added bonus you can continue south pass Twin Lakes in front of the Collegiate Peaks and into Buena Vista and Salida. All the highest mountain peaks along the way are The tallest in the Rockies and are affectionately referred to as 14ers.
The Scheduled Events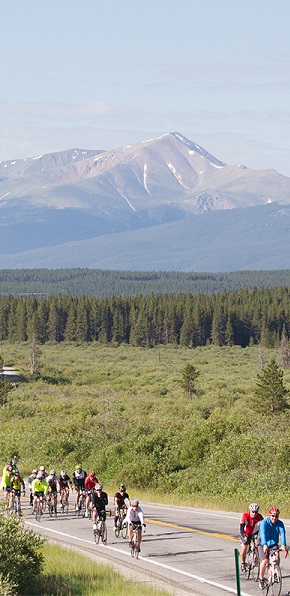 This year's first schedule event is the Buena Vista Bike Fest on June 4, 2016. It leaves Buena Vista and goes north to Leadville, around Turquoise Lake and back to Buena Vista. For more info log into www.bvbf.org

The second event is Ride the Rockies and it starts June 12, 2016 and goes through June 17, 2016. The first day starts in Carbondale and goes to Aspen. Day three is the Cooper Mountain Loop and it runs through Leadville and back to Cooper Mountain. The final day runs from Estes Park and finishes in Fort Collins.

The third event is the Kia Copper Triangle. The event starts and finishes at Cooper mountain on August 6, 2016 . It runs for 78 miles from Cooper Mountain to Leadville to Vail and back to Cooper Mountain. That's 3 mountain passes, 2 of which are in Leadville.There are 100's of activities and events through out the year you can enjoy when the tires stop turning.
Lodging and Logistic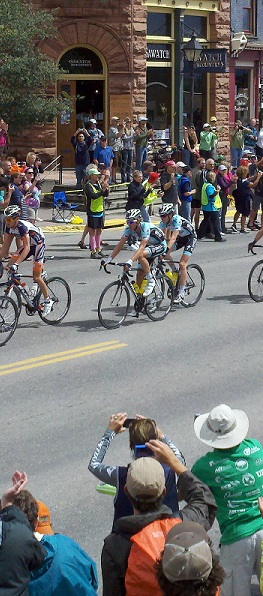 I hope you noticed the reoccurring theme. Everyone wants to ride the Colorado Scenic By-Ways around Leadville when it comes to cycling in the Rocky Mountains. And, you can too without being part of a large event. Cielo Vista Vacation Properties are perfect for a Cycling Vacation. You can rent a Leadville vacation home and spend a week riding past one spectacular view after another. Take a look at our property page for that perfect home with plenty of room and storage for family, friends, and cycles. Then book on-line. Its much easier than riding over 3 mountain passes. Get a group of family and friends together and ride the "Top of the Rockies." Unfortunately,summer road cycling, the Leadville 100 Races, and other summer events have a tendency to congest the roads, fill up the best vacation rentals fast, and inflate the rates, so don't delay. Fortunately there is an attractive alternative.


Spring and fall road cycling have some extraordinary benefits. Springtime in the Rockies is not only beautiful, it's also uncrowded. The RV parade has not started and the summer crowd is not ready to escape the heat of lower elevations. The roads are wide open from traffic and the mountains still have snowcapped peaks. Most vacation home rentals in Leadville have discounted rates or specials to attract vacationers. Several of our properties have cycling special during the spring and fall. You can check under our Specials tab for the deals. Then find the right property that accepts the code. Fall cycling has the same type of benefits like no crowds, NO RVs, open roads, and an added feature vibrant fall colors. The rental rates have returned to family affordable pricing and our fall cycling special is a great deal for 4 or 6 people, 4 or 6 days. It well worth the time exploring the options.
Local Support
During your stay you may need cycling repairs or adjustments. Leadville has anl excellent cycle shop in town to help with your needs and supporting services. CYCLES OF LIFE is a full service bike shop located in Leadville, Colorado, high in the Rocky Mountains. They are situated at 10,152 feet above sea level, and surrounded by mountain peaks ranging from 12,000 to 14,443′. Their service shop specializes in all types of repair, minor and major, including custom bike builds, tune-ups, custom wheel building, suspension and fork overhauls, bike fitting and more with most parts in stock. They sell the brands you ride and are dedicated to ensure that whether you're new to biking or you're a pro, that you will be taken well care of. They love biking and are passionate about what they do. Check them out, you won't be disappointed! Cycle of life, 309 Harrison Ave. Leadville, CO 80461, Phone 1-719-486-5533, [email protected] Note: Vail, Aspen, Buena Vista and Breckenridge have cycle shops also.