Epic Mountain Biking



How it started
In 1895 the township of Leadville decided to build an ice palace as an attraction to encourage tourist to come to their struggling mining town to help boost the economy. The Crystal Palace was built and people came by train from far and wide to participate in Leadville's first Winter Carnival. One of the scheduled events was a bicycle race. This is the first account of mountain bike races being held in Leadville. Today, Leadville is host to three epic mountain bike events and riders come from around the world to participate in some of the most grueling conditions in the sport. Whether you are a novice at the sport or an endurance athlete, lodging in Leadville can be hard to find during these events. Search our Vacation Rental Page for easy access to all of our affordable vacation rental homes for you, your family, or group.
Epic Events and Winter Places to ride
As a continue winter tradition, Leadville is host to the Winter Mountain Bike Series sponsored by the Cloud City Wheelers. They consist of 4 separate races starting in January and finishing in April at different location. They are WinterBike @ Copper Mountain, Tennessee Pass Night Jam, Mineral Belt Mayhem, and East Side Epic. Dates, time, and other important information can be found at www.cloudcitywheelers.com. Below is a list a few maintained "Winter Trails" for your mountain biking pleasure.

Mineral Belt Trail — The 11.6-mile Mineral Belt Trail is paved for use during the summer as well, loops through and around Leadville and many of its most significant historic sites, offering breathtaking views of the Sawatch Range.

East Side County Roads — Explore Leadville's historic mining district on county roads,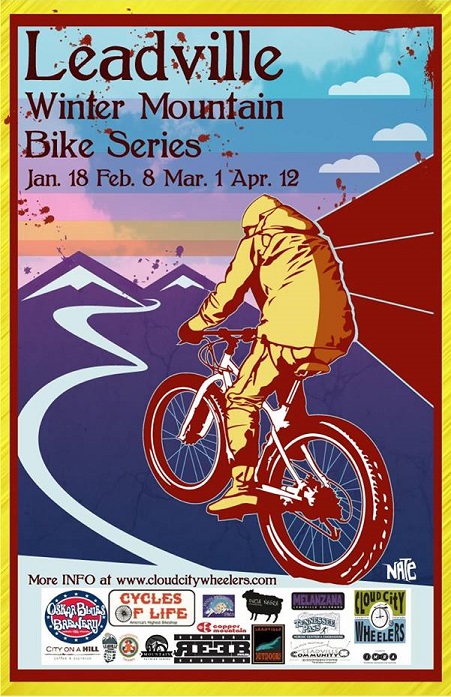 some plowed and some unplowed, with access via 5th and 7th Streets, north off of Harrison Avenue. This area is groomed Wednesdays by High Riders Snowmobile Club and is open to motorized use as well.

Cloud City Wheelers Bike Club Trails — This local biking club built single-track trails near the Colorado Mountain College Timberline campus and grooms them regularly in the winter. Maps are available at Cycles of Life at 309 Harrison Avenue.

Turquoise Lake — The roads around this scenic mountain lake are closed in the winter and groomed Mondays and Fridays by the High Riders Snowmobile Club for both non-motorized and motorized use.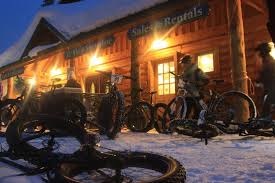 Tennessee Pass Nordic Center — Located at the base of Ski Cooper, this fee-based network includes 25 kilometers of highly maintained and regularly groomed trails, with challenging elevation changes in forested trail areas and easier, wide-open segments in the meadow near its namesake pass.

Mt. Massive Golf Course and Nordic Area — North America's highest-elevation golf course offers 12 kilometers of groomed trails in the winter, perfect for beginners.
Summer Epic Events

This year's Silver Rush 50 MTB is scheduled for July 8th, 9th and is a 50-mile out-and-back course that takes racers through the historic mining district on the east side of Leadville, passing many grand and historic gold and silver mines. It will begin at the Cloud City Ski Hut (located just below Colorado Mountain College on Hwy 24 on the south end of Leadville). None of the roads used will be closed to vehicle traffic, so please use caution. The courses will be well marked with fluorescent pink-and-black-striped ribbon and chalk arrows.

Leadville 100 MTB pre-race preparation starts on August 11th and finishes on the 14th. It is one hundred miles across the high-altitude, extreme terrain of the Colorado Rockies. It is meant to be an event for only the most determined athletes. It starts in downtown Leadville at 10,152 feet and climbing to 12,424' on forest roads.
Spring and Fall, The Best Time of the Year
When you get right down to it, spring and fall may be the best time to ride mountain bikes in and around Leadville. By mid-spring most of the trails are clear of snow and with fewer riders as compared to the mid -summer race season. And a host of other trails and roads become accessible also. By fall the sheer number of trails and roads quadruple and participant reduce by at least half. The 3 dirt road mountain passes like Mosquito, Hagerman and Weston Pass are almost vacant and they all offer spectacular views of the Rocky Mountains. Lodging rates in the spring and fall are more affordable and with a larger number of choices to choose from. Some of Cielo Vista Vacation Properties have Specials for mountain bike in both these seasons. Check out The Specials tab for the details. Below are a few more trails that open up in the fall

Wurt's Ditch Road – is an out and back 10 mile ride and great for beginners. You can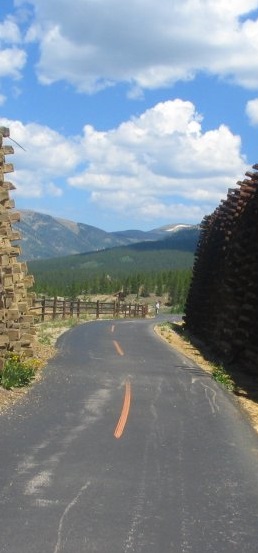 take Highway 24 north of Leadville toward Tennessee Pass for about seven miles. Take first left past Sylvan Lakes Estates, County Road 19. Follow this road for 0.8 miles. Turn right at Wurt's Ditch Road sign. Follow this to Forest Service cabin. Park here and begin ride up Wurt's Ditch Road.

Tenth Mountain Hut –is an out and back 6 mile ride for Intermediate/Advanced riders. You can park at the same place as the Wurt's Ditch Ride. The ride starts by going through the gate.

Lilly Lake – is an out and back 9 mile ride for Beginner/Advanced riders. Drive Highway 24 north of Leadville toward Tennessee Pass for about seven miles. Take first left past Sylvan Lakes Estates. This road will take you to a small cabin and a sign for Lilly Lake. Park here and begin the ride.

Jenny June Loop - Is a 12 mile loop and great for Intermediate/Advanced riders. You can drive Highway 24 north of Leadville to the top of Tennessee Pass. Turn right into Ski Cooper and park at the gate. Begin riding toward ski area and working right look for the maintenance building. Turn right onto the 4-wheel-drive road at the gas pumps.
Local Support
Here are 3 great places to find more information on events, trails, directions, repairs, rentals and more.

Cycle of life, 309 Harrison Ave. Leadville, CO 80461 Phone 1-719-486-5533, [email protected]

Cloud City Wheelers, www.cloudcitywheelers.com.

Leadville Ranger District, 810 Front Street, Leadville, CO – 80461, Phone (719) 486-0749