Vacation Golfing in the Rocky Mountains

"North America's Highest" Golf Course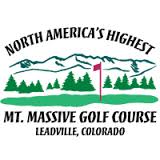 Mountain Massive Golf Course is just on the edge of town at base of 14,429' Mt. Massive. It is well maintained to a level that rivals the nearby resort courses which carry $100+ per round price tags. The 9 holes course is reasonably priced starting as low as $16.00 walking. Surrounded by ranch land, forest, and by the highest peaks in the lower 48 and is considered the "Americas Highest Golf Course". Immediately you will notice there is not a house, hotel or
condo in sight to obstruct your view of the Rocky Mountains.

Mt. Massive Club House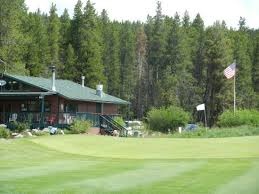 The club house at Mt. Massive Golf Course has a Golf Shop that carries all the essentials for a great outing and a few specialty and fun items like the "Americas Highest" logo hat. The friendly and knowledgeable staff can help with all the services you may need such as cart and club rentals, lessons, and course descriptions. The Mt. Elbert Grill is a great place to pick up a few snacks before you start. After your round(s) drop in for a reasonably priced lunch or dinner and have a few of your favorite libations as you enjoy the Rocky Mountain
views among friends.

Practice Facility
If anyone in your party needs a set of cubs or a little warm up before you go out to start, no worries. Mt. Massive has affordable rentals and a practice range to help get them back into the swing of things. A professional staff can help with club selection and tips. You can also brush up on your short game on their large chipping and putting green. Everything you need for a great outing can be found at Mt. Massive Golf Course, including spectacular views and Rocky Mountain scenery.


Leadville is a Golf Vacation Destination?
If you have never considered Vacation Golfing in Leadville, you are missing the golf cart. When you are lodging in Leadville with Cielo Vista Vacation Properties, you have chosen a centrally located home that is in close proximity to some of Best of Colorado's golf resorts. Your Leadville vacation rental home is no more than an hours' drive from 5 golf resorts, with no less than 15 golf courses to choose from. The 9 hole Mount Massive Golf Course is only 5 minutes away for a short day golf excursion and Copper Mountain is just a 20 minute drive down highway 91. All 3 directions in or out of Leadville are
Colorado Scenic By-Ways. The travel time to and from dissipates once your attention turn to the magnificent scenery and backdrop for each and every course in the Rockies. Not to mention the fresh mountain air will help your drives and inspire you and your game to new heights.


A Hole in One
For some, the lodging cost to stay at the Mega Resorts may be a little rich for their blood. And if the whole family or group is not as enthusiastic about golf as you are, it may derail your golf vacation extravaganza. Cielo Vista Vacation Properties can help. Renting a 3 bedroom vacation home in Leadville with 2 1/2 baths accommodates most of 6-8 people, groups, or families. And Leadville has all the activities and events you need for everyone else while you and your golf partner(s) head off to the clubhouse. You can spend the first day adjusting your drive in altitude at Mount Massive Golf Course. The non-golfers can spend their day hiking, riding the train, or shopping in town. The next day, head out for 18 holes at any one of the surrounding Mega Resorts. If you're lucky, no one will recognize you're gone. If not, repeat again at a different course. What makes all of this possible is the inexpensive lodging price of your Leadville vacation home that is 50% lower than the Resorts during peak season. Check out our rates and homes on our web site menu under Vacation Rentals. Now that's a Hole in One.

Spice of Life
If variety is the spice of life, this golf vacation will leave a great taste in your mouth. All our Leadville vacation properties are an hour or less from 17 different courses. No two of the course located in and around the Leadville area are alike in size, shape, difficulty, cost, and scenery. The hole offerings ranges from 9 to 36 holes so you can golf early morning, late afternoon or all day long. Some are set up like Scottish Links and others are designed by golf's greats like Arnold Palmer and Jack Nicklaus. The pricing varies at each location, one as low as $16.00 for 9 holes walking at Mountain Massive Golf Course. Others can be as high as several hundred. Always call ahead for tee times, cart rentals, and cost. And all the courses have wonderful Rocky Mountain scenery.

Timing is Everything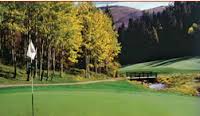 The best kept secret in the Rocky Mountains is when to golf in the high country of Colorado. Make no mistake. It's the off seasons. Mid to late spring and early fall usually offers cooler weather, less crowds trying to escape the heat, beautiful changing scenery, and lower lodging costs. Cielo Vista Vacation Properties offers specials for golfers. Click on our "Specials Page" on our web site for the details for extra savings on lodging. Lodging costs vary by number of occupants, duration, and dates. Here are few of the golf courses our renters enjoy like Mount Massive Golf Course, Raven Gulf Club at Three Peaks, Copper Creek Golf Course, Vail Golf Club, Breckenridge Golf Club, and Keystone Ranch Golf Course. Come to Leadville with 4 or 6 of your closest family members or friends for a stay of 4 to 6 days, and you will be able to choose from over 15 different golf courses, all within a 60 minutes' drive. Mount Massive Golf Course in Leadville is a great place to start and finish your golfing vacation.