Leadville Race Series
Racing in Leadville
Every year since 1983 endurance athletes have participated in the Leadville Race Series in Leadville, Colorado. They come from around the word to mountain bike or run in one the world's most grueling and challenging courses because of its terrain and altitude. The first race starts in June and the final one finishes in late August. As spring gives way to summer, the endurance events grow in distance and difficulty due to the heat. Some choose to ride the mountain bike event(s), others to run the event courses, and a few tackle them both. At some point in time they all search for a convenient location to train and re-cover and Cielo Vista Vacation Properties is the perfect place to stay.

Training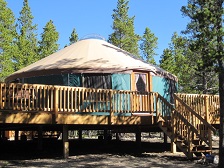 There are a lot of positive benefits from high-altitude training especially when you rent a Leadville vacation home that sits at an elevation above town and has convenient access to the event courses. There are 3 scheduled official training events which start on June 24 for the Leadville Trail 100 Run, them a Camp for Champions for both Leadville Trail Run 100 and finishing with the Leadville Trail Mountain Bike 100 over the Fourth of July week. Whether you ride or run, all difficult section can be reached in minutes from or vacation homes. We also have a yurt at 11,000' on the "Race Across the Sky" course above Turquoise Lake. You can bike and run right onto the course, and loop back around and do it again. That's what I call a competitive edge.
Marathon and Half Heavy



The first races of the season start with the trail Marathon and Heavy Half on June 18th. Each run heads out of Leadville through the Historic Mining District and the marathon goes to Mosquito Pass at 13,185 then around Ball Mountain just on the other side of California Gulch. Cielo Vista Vacation Properties has several comfortable and affordable vacation homes on the other side California Gulch with access to the course. Each of our vacation homes has 3 bedrooms and room for 6 to 8 competitors, family members or group.

Silver Rush 50 MTB and 50 Run



Next are the Silver 50 MTB and 50 Run on July 7th. They both start at the Dutch Henry Sled Hill about a minute from Brooklyn Heights. Stay in one of our vacation homes in Brooklyn Heights and you can run or bike down the hill right to the start. The rentals are fully equipped kitchen and washer and dryers. They also have a private off street parking garage where you can safely store you bikes and extra gears.
The Big Ones

Although there is a Leadville 10k race on August 14th, it is overshadowed by the big 3, the Leadville Stage Run an MTB, The Leadville Trail 100 MTB, and Leadville 100 Run. The Stage race starts on the 29th 0f July. This race is new this year. You can bring a team and each member can race in one of the 3 stages on the same course as the 100 MTB or the Run. There are several ways to qualify for the 100 MTB and 100 Run even if it is SOLD OUT. The next 2 races round out the season which ends on the 20th of August. They are considered the most challenging endurance races in the world with elevation gains over 3,300' and the starting line above 10,000'. Most of the endurance athletes come to Leadville early and often to acclimate and train on the course. Some train and practice for years before they can qualify to race. If you stay in our vacation rental home you can take a long steam bath in your therapeutic sauna back on the deck in Brooklyn Heights after every training session. After these races you will need to stay a week just to wind down.

Lodging, a Competitive Edge



The right lodging in Leadville from May through August is always difficult to find. The cost and accommodations can be hard to match for the endurance athletes. Hotels are great for a few days and several people but no where to put your bikes and gear. Ditto for the Bed and Breakfast places but the cost can get a little pricey. Compare our weekly rates for a Leadville vacation home. They are competitively priced with plenty of room and accommodations for 6-8 guests. Great for team, support members, or family with 3 bedrooms and 2 ½ baths. The master has an extra tub to soak those weary bones after all the miles of jarring dirt trail. The deck is perfect for team strategy session or just relaxation in the Steam Sauna. There is plenty of room in the private garage to fine tune your bikes and safely store them. Our Brooklyn Heights location offer a quite setting in a sub-division with quick trail access to the Silver Rush 50, Marathon, and Heavy Half trail. You home is less than a half mile downtown at an elevation of 10,500'. You can actually see several of the start/finish lines and course areas. We also have a 30 foot yurt located on the LT MTB 100 Trail at about 10,650' elevation. The yurt is at 10,820'. Take a look at our property page for more information and "Elevate Your Performance".