Peak Bagging the 14ers
Highest in the Rockies
The state of Colorado is home of the highest mountain peaks in the Rocky Mountain Range. Officially there are fifty four 14,000 feet mountains or 14ers, in the Rockies and every one of them are in Colorado. Leadville is located in the Arkansas Valley surrounded by the Sawatch, Ten Mile and Mosquito Ranges and 11 of the 20 tallest 14ers, two of which are the tallest, Mt. Elbert at 14,433' and Mt. Massive at 14,421'. For years the Colorado faithful have made the trek to Leadville to pay homage to the tallest peaks by placing cairns along the trail and attempting to reach their peaks. To put this in perspective, 99% of all humans that have graced this earth have never climbed a 14er and when you finally
reach that elusive peak you always feel a grand sense of accomplishment. If you think the vistas looking up at the range are spectacular, wait until you are looking across the entire range for 50 miles or so in every direction. You can use one of our homes as base camp. Check out our Leadville vacation homes and their rates. They are very affordable and great place to kick back, review all the pics, and plot the next day of climbing during your Rocky Mountain outdoor adventure.
General Directions and Locations
There are twenty one 14ers trail heads within an hour's drive of Leadville.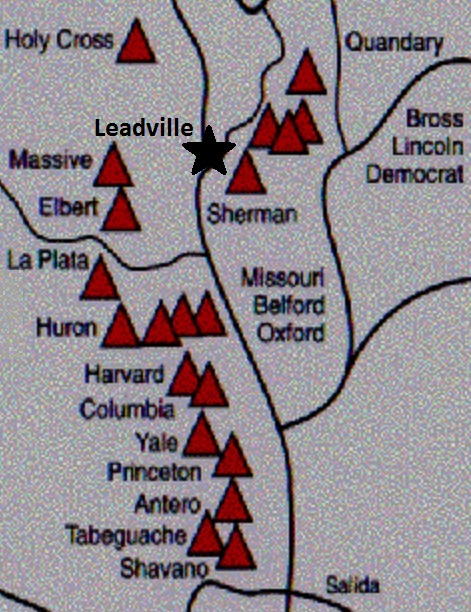 During the summer you can drive over Weston Pass so you can save time to the approaches of the Mosquito and Ten Mile Ranges. You can reach the standard trail heads for Mt Sherman, Mt Democrat, Mt. Cameron, Mt Lincoln, Mt. Bross and Quandary Peak off of US-285 and C-9. For the Sawatch Range and fourteen more 14ers, it's a drive down US- 24 South of Leadville. As you travel down US-24 you pass Mt Massive, Mt Elbert, La Plata Peak, Mt Huron, Mt Missouri, and Mt Belford. Then you go by the Collegiate Peaks, Mt. Oxford, Mt Harvard, Mt. Columbia, Mt Yale, and Mt. Princeton. The last 3 in this direction are Mt. Antero, Mt Shavano, and Mt Tabeguache. The last one, Mt. Holy Cross is north of US-24. You can find best information on each climb on the www.14ers .com website built by Bill Middlebrook. His website info can be printed out and used on the trail. His experience has successfully directed my wife and I up and down forty six 14ers, safely.
How to prepare
First and foremost get in shape. Try bike riding or running for 30

minutes, 3 times a week for a month. Spend the first day in Leadville to acclimate at 10,000'. Wear clothes that wick and carry extra layers to take on and off depending on the weather. Carry a day pack with plenty of water and snack food like granola bars. Bagels and hummus travel well. A rain shell can come in handy in wind or rain. Collapsible hiking poles save the knees on the way down. Make sure you wear broke in boots and carry a small first aid kit for blisters if you don't. Don't forget the camera and remember to sign in on the summit log. Take a trail map with you and stay on the path. Look for and follow the cairns, plies of rocks, above tree line and feel free to add to the pile. It's a rite of passage. If you are climbing in the summer, schedule your trip to leave the summit before noon. Thunder and Hailstorms can boil up in minutes and lightning kills. Above tree line, 12,000 feet, You are the tallest thing on the mountain. If you can't make it back to tree line before the storm starts, lay down until it passes. The goal is not to summit. It is to return safely. Finally, always leave your itinerary with someone so they can call if you are not back on time. Leadville has plenty of other activities and events, if peak bagging 14ers is not your idea of a vacation or if it has exacted your last pound of flesh.
Climbing Season
Most of our vacationers choose to climb during the summer. Unfortunately crowds on the most popular mountain climbs and afternoon t-storms can ruin the ride or as they say, "Kill the Climb". There is a better alternative, Fall. In the fall months the frequency of afternoon t-storms have dissipated, skies are cool and clear, the trails are full with autumn colors and the crowds have subsided. You can truly enjoy the journey, take your time up and down the mountain, and not share the trail. As an added bonus, the Summer Peak season is over and Cielo Vista Vacation Properties offers Specials and Discounted rates during this period of time. View our Vacation Rental page for all the best deals.
Supporting Services
Leadville Outdoors - is an independent mountain shop located in historic downtown Leadville, catering to the backcountry and cross-country skier, trail runner, backpacker and mountain lover. They offer a great selection of quality essentials you can rely on, and an experienced, knowledgeable and friendly staff to make sure you get what you need. Whether you need to have your Dynafit bindings mounted and your skins cut; or just need a beanie, some cush new socks and some local advice, we've got you covered. They are Located at 225 Harrison Ave, Leadville, Co 80461, 719-486-7392 Leadville

Sawatch Guides - established in 2012, is a professional guide service based Leadville, Colorado. Our experienced staff is here to provide you with high quality outdoor adventures above 10,000 feet. From the famous fourteen thousand foot peaks that dominate this vista, to the hundreds of peaks over 12'000 feet, and the countless alpine lakes cradled between them, this range offers year round recreation for all abilities. They are located at 225 Harrison Ave, Leadville, CO 80461, 970-485-3752, www.sawatchguides.com

Melanzana - is a homegrown outdoor clothing company in the historic mining town of Leadville, Colorado. We are dedicated to designing and building high-performance clothing that is a little different from what you can find in typical outdoor stores. They are located at 716 Harrison Ave., Leadville, CO 80461, (719) 486-3245, [email protected] Leadville Store Hours: 10AM - 6PM Monday thru Saturday 10AM - 5PM Sundays. Open 7 days a week!

Leadville Ranger District Office - Hiking is one of the most popular activities in the San Isabel National Forests. Day hikes include interpretive trails and short-distance trails perfect for the family. Backpacking hikes include long-distance trails, including the Colorado Trail and the Continental Divide Trail. The San Isabel National Forest provides numerous day hiking opportunities for all ages and ability levels. Please stay on trails and leave only footprints. Leadville Ranger District Office, 810 Front Street Leadville, Colorado 80461, Phone (719) 486-0749

14ers.com - The mission of 14ers.com is to provide free access to peak information, photos, climbing routes and an active forum, all in an open environment that's easy to use. Open and free. It's those two words that draw a huge amount of people to the site temporarily. www.14ers.com.