Snowshoeing Scenic Leadville
Winter Wonderland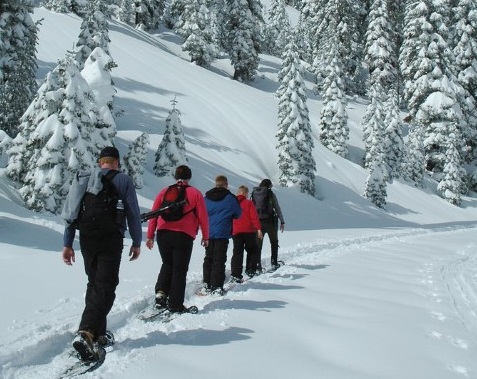 If the only things you hear are snow falling from the bows of evergreens, squirrels barking as you pass their territory or someone in your group saying, "Wow, Look at that vista!" You must be snowshoeing in the backcountry in and around Leadville, Colorado. The winter solitude can be invigorating and the silence deafening as you experience a Rocky Mountain Winter first hand. Leadville has 50 miles of groomed trail and an endless amount of forest service road, multi use trails and unprecedented mountain vistas around every corner. Some of the trail heads may be
steps from your vacation rental home.
Come Prepared



Some say if you can walk you can snowshoe and on a groomed surface that's an accurate assessment. For those that have post holed for a hundred yards in the backcountry just might disagree. Breathable layers, gators, water, sunglasses, waterproof boots, day pack for a few essentials, adjustable poles with baskets, and snowshoes that float your weight are recommended. No cotton! Rental equipment is available at several support business in town. Several are listed below.
Scenic Views
It's hard to miss the Grandeur of the Rocky Mountains in Leadville. The Arkansas Valley is surrounded by 14ers. With the Sawatch Range to the west and the 10 Mile/Mosquito Ranges to the east, there are 14 mountains that can be seen from Leadville depending on your orientation and elevation. Not to mention the 13 ers, frozen Lakes, and the Historical Landmarks in town. Most eyes stay focused on the 2 Largest Mountains in the entire Rocky Mountain Range, Mt Elbert at 14,443' and Mt Massive at 14,421' side by side as you travel around. One of the all-around best places to snowshoe is the Mineral Belt Trail that loops around the entire town and offers endless photographic opportunities of natural and historical icons. No need to put the camera away but you may want an extra battery and memory card. Wildlife is always present everywhere you go. With short travel distances and rates way below the mega-resorts, you can afford to ski them all. Check out our Winter Brochure for more information about exciting winter fun in the "Heart of the Rockies", Leadville, Colorado. Print as many as you need to share with family, friends, groups, or club members.
Scenic Trails
You can find all types of trails suited for the novice to the backcountry survivalist around Leadville. These trails offer safe and fun access to the beginner, families with children, and the intermediate outdoor enthusiast looking for that special place to build on life's memorable moments. There are at least a half of dozen more trails listed in and around the Leadville area.
Mineral Belt National Recreation Trail – It's a11.6-mile paved loop trail and is built for multi-use and all seasonal access. There are awesome views of the Sawatch and Mosquito ranges, and offers historical glimpses of Leadville's mining past. The trail circles the city, passing through aspen groves, conifer forests, with wildflower meadows. There are numerous trail heads and access points, about 20, and encompasses about 70 blocks-square-blocks through the Leadville National Historic Landmark District and the Leadville Mining District. Most of Cielo Vista Vacation Properties have at least one easy access close by. During the winter months, the trail is groomed for skate skiing, cross-country skiing, winter biking and snowshoeing. In warmer months, it's perfect for hiking, biking or rollerblading. The fall colorful foliage provides yet another seasonal photographic opportunity of the Rocky Mountains and town. For more information and trail map, visit www.mineralbelttrail.com


Mount Massive Golf Course - Now that the snow has arrived the greens turn into whites, and converts to a groomed snowshoe and cross-country ski playground. North America's highest golf course, located southwest of Leadville on County Road 4, transforms into a winter wonderland, offering three separate loops. The short loop is about 1.25 miles, the middle loop is 2.5 miles and the longest loop is about 3.75 miles. With stunning views of Mts. Massive and Elbert, you can do a few laps around the tracks only miles from downtown Leadville. The trails are groomed as needed and are especially suited for beginners and intermediates. There is a $2 donation suggested, the box is on the post to the right of the entrance. It's located just three miles west of town near Turquoise Lake. All the trails are wide and wind gently in and out of forested areas and
along the open golf course fairways. Every year several winter events are held 0n the course. The first one is the Leadville Snowshoe Marathon and it is held every in early February. The following week in February, the High Riders Snowmobile Club will be hosting The Leadville High Altitude Snow Drags. This day-long event will feature snowmobile drag races right on the ninth hole of the golf course. There will also be some demos available for snow machine enthusiasts.
Turquoise Lake Road - west of Leadville off of County Road 4, offers a loop for snowmobiles, skiers and snowshoers. About 20- 30 miles are groomed by the High Riders Snowmobile Club several times a week. You can stop along the way for beautiful views of the Rocky Mountains including Mt. Elbert, Mt Massive, and the lake. There are several service road off the lake road that are groomed also. Parts of FSR 107 and all of FSR 103 are groomed and can be used to access Cielo Vista Yurt for a backcountry vacation. Check our Property Page and our Specials page for winter snowshoe specials. Another trail open for snowshoeing around the lake is the 6.4 mi. non-groomed Turquoise Lake Trail. It starts from the Dam and finishes at the May Queen Campground
Leadville Ski Country -Let Leadville Ski Country plan and arrange your next trip to Colorado. They offer personal service for a trouble-free trip. You can rent skis, snowboards, snowshoes, & snowmobiles. Leadville Ski Country, 116 E 9th St, Leadville, CO 80461

Leadville Ranger District- Deep powder, miles of groomed trails and more! The Pike and San Isabel National Forests boast some of the best snowshoe routes. To use Forest service roads check with the Ranger District for required permits and registration. www.fs.usda.gov/Internet/FSE_DOCUMENTS/fseprd490152.pdf Leadville Ranger District, 810 Front Street, Leadville, CO – 80461, 719-486-0749

Bill's Rentals - It was founded in 1945 in Leadville, Colorado as a full-line ski shop. They are now a full Alpine and Snowboard rental shop with a line of accessories to make your days on the mountain complete. Rental Shop is open 7 days a week from 8AM to 5PM: phone: 719 486 1497. The Retail Shop is open Monday through Saturday 9AM to 5:30PM: phone: 719 486 1497. It is located at 131 Hwy. 91 as you come south into Leadville, PO Box 58, 8 Leadville, CO 80461, www.billsrentals.com